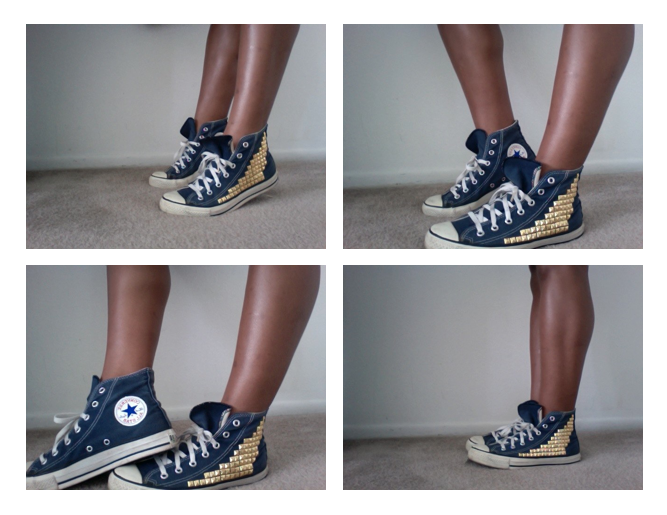 For the longest time I have been dying to stud my converse. I know it's something totally overused and kinda sorta unoriginal (well, now), but I had to do it! I think it adds a sort of modern/rock touch to any outfit (lol) But yeah, here are the instructions~

What you'll need:
• A pair of hightop converse- any color
• Studs- I bought 200pc 8mm gold pyramid studs & 200pc 8mm silver pyramid studs off of Etsy
• A penny or a dime or a nickel or whatever
• A hammer
• A rag

Procedure:
1) Take your converse, choose the color stud, and design... Just google designs if you feel uninspired
2) Once you've found everything, start studding. Start from the bottom so the lines can look/ will be even.
3) As you start studding, you'll realize that the studs you push in fold in the back, to fold them use the penny or dime etc... and use it to push it down
4) Don't worry if you mess up, it's fairly easy to take the stud out and replace it with a new one.
5) When you're done and you like your design, find a hard surface, nothing too fragile (you'll be hammering the shoe).
6) Take the rag, and fold it so it's thick, and place your shoe on the side (where the studs are touching the rag, MAKE SURE THAT THE RAG IS THICK ENOUGH SO IT WON'T DAMAGE YOUR STUDS). Open your shoe so you can hammer the inside. This is so the pricks of the studs don't open and scratch you lol


It took me a only a couple of minutes to make this design so have fun and enjoy!